About Weddings
A wedding day is the melding together of your lives and your families.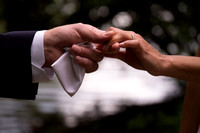 Every detail will be planned and the stage will be set, it will be my job to capture both the planned and spontaneous moments at the wedding, to capture as much of the detail as possible, from the ceremony to the side conversations. Wedding photography is capturing the relationships that are deepening in that moment, starting and those that seem to have been their forever.
The photographer is the one who spends the most time with the bride, so I also see my role as a support person to her. The honor of supporting a woman as she makes this awe-inspiring commitment is one of my favorite parts of the day. Different people want different things from their wedding photographer. You may want a photographer to come to the rehearsal dinner, show up before the bride gets ready, be the last to leave the reception and then later do a trash-the-dress session. Or you may want a photographer just to show up to the ceremony and the reception or something in between. You may want large portraits to grace your wall, an album for the two of you and ones for your parents, a slideshow, invitations and thank you cards and many prints or maybe just a coffee table book.